Take part in a Fundraising Events
Charity Fundraising Events at LWA are always fun and immensely rewarding experiences. LWA organise several fundraising events each year.
We are always looking for enthusiastic people to volunteer at our events, if you are interested click here: event volunteers.
2021 LWA EVENTS
LWA Christmas Cards – on sale now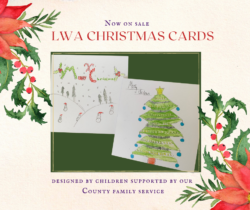 Our Christmas Cards are now on sale! There is very limited stock, so get in there quick. It's £5* for a pack of 6 cards, there's 3 of each design.
This year's Christmas cards were designed by some of the children who have been supported by LWA's County Family Service (details on the back of the card as well). Our Family Support Workers support children who have lived in homes where domestic abuse has taken place. The team give the children a space to talk about what they have been through, and through fun, creative activities help them to gain an understanding of what a healthy relationship looks like so that they can break the cycle and go on to have healthy fulfilling relationships of their own. The team also help the children to better understand and deal with their emotions, and build up their self-confidence and self-esteem. Our children have loved designing cards to help us raise money to support other children and families.
Burns Night Supper – 22nd January 2022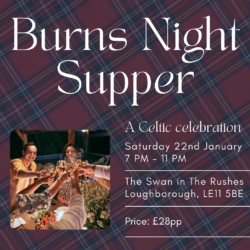 We are delighted to welcome you to The Swan In The Rushes for a Burns Night Supper – prepared by a real Scots woman!
What is Burns Night?
Burns Night is annually celebrated in Scotland on or around January 25. It commemorates the life of the bard (poet) Robert Burns, who was born on January 25, 1759. The day also celebrates Burns' contribution to Scottish culture. His best known work is Auld Lang Syne.
What's the plan?
You will be piped in by a traditional Bagpiper! Then you'll eat a delicious 3 course meal – Haggis, Neeps and Tatties will be on offer, or a main course alternative for those who don't want haggis. Vegetarian options also available.
We'll pipe in and toast the Haggis as is traditional, and have a few drams of whiskey we're sure!
It's a great night out with a Scottish twist!
Cost: £28pp (only 80 places available!)
Dress code: Lounge suits – with some tartan if you would like!
Galentine's Day Market – 12th February 2022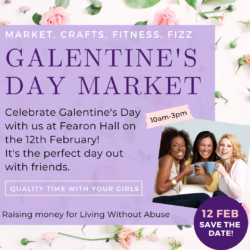 Galentine's Day (13th Feb) is the international day to celebrate all your female friendships – and what better way to do it than spending a few hours together shopping, doing crafts, taking part in fun fitness classes, and having a cheeky prosecco?
We are delighted to be hosting this Galentine's Day Market at Fearon Hall in Loughborough – grab your favourite females and head down!
Loughborough Half Marathon – 3rd April 2022
FINAL YEAR OF THE LOUGHBOROUGH HALF MARATHON GARENDON ROUTE!
13.1 Mile course starting at Charnwood College and making it's way towards Shepshed via the beautiful Garendon Estate.
They are building houses on Garendon so this is the FINAL year of this route, make sure you're there!
There will be plenty of Jelly Babies and water to keep you going and a medal for finishers!
You can run it all yourself, or do it as a Team Relay and it's just over 5k each, perfect for those doing Couch to 5k!
£26 Affiliated
£28 Non-affiliated
£84 Affiliated team of 4 adults
£94 Non-affiliated team of 4 adults
£25 Student entry
£15 + £2 P&P for LWA Running Tshirt
Want an extra challenge and a bit of a discount? Join our 4,500km for LWA challenge! 
https://fb.me/e/th7uSHupu
Log your km throughout the year, and help raise vital funds for LWA! You receive a 10% discount to the Loughborough Half!
Loughborough Colour Run – 3rd July 2022
Coalville 5km Fun Run – 18th September 2022
LWA Strictly – August-October 2022 
LWA Winter Ball –  3rd December 2022
For more information about any of the events please contact fundraising@lwa.org.uk
Want to do your own Fundraising?
If you have other ideas for fundraising events for us at LWA, click here.